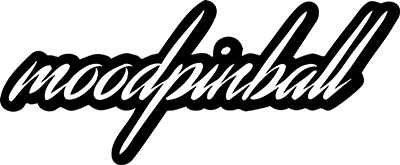 by Ben Neal, Edie Jo Murray
& Harmeet Chagger-Khan
(2019-2020)
Mood Pinball is an Artwork
A highly stylised pinball game has a synthesised dataset buried deep in the heart of the code. It's a dreamy illustration of how data might inform everyday decisions that affect the well-being of real people and playfully re-imagines how city-wide data could be used by an individual, or explored by playing a game.

Currently in exhibiton at...
The Open Data Institute London
and The Herbert Gallery Coventry
Accompanying the game is a series of animated provocations created by the artists to raise key questions which informed and are raised by the work, a short CGI teaser offering us a "pinball's-eye-view" through the inner landscape of the game, and an overview film introducing the project. Watch them all below.
Enquire about Mood Pinball - Email Us

Download Press Pack
Wooden Cabinet by Joseph Welden with lasercutting by Juneau Projects and Music by Arc Vel
Original digital pinball machine commissioned by ODI Data as Culture in partnership with the University of Southampton / King's College London Data Stories project, supported by the EPSRC, grant number EP/PO25676/1. Produced by BOM centre for art, technology and science, Birmingham. Online developments commissioned by ODI Data as Culture. Android app co-commissioned with Now Play This festival 2020.