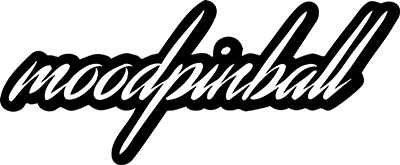 by Ben Neal, Edie Jo Murray
& Harmeet Chagger-Khan
(2019-2020)
Mood Pinball is an Artwork
A highly stylised pinball game has a synthesised dataset buried deep in the heart of the code. It's a dreamy illustration of how data might inform everyday decisions that affect the well-being of real people and playfully re-imagines how city-wide data could be used by an individual, or explored by playing a game.

In exhibition online at The Herbert Gallery, Coventry
Previous exhibitions
5 Oct 2023 Coventry Biennial at Coventry University, Coventry
18 Oct 2023 Birmingham Tech Week at The Bond Gallery, Birmingham
6 Jul 2023 - London Data Week event In The Pink at The Open Data Institute, London
9-17 Feb 2022 - Festival of Science and Curiosity at Broadway Cinema, Nottingham
10th Nov 2020 - ODI Summit at The Open Data Institute, London
21-22 Sept 2019 - Digital Design Weekend at Victoria and Albert Museum, London
13 Sept-21st Dec 2019 - Hacked! Games Re-designed at BOM, Birmingham
11-12 Nov 2019 - ODI Summit at The Open Data Institute, London
Accompanying the game is a series of animated provocations created by the artists to raise key questions which informed and are raised by the work, a short CGI teaser offering us a "pinball's-eye-view" through the inner landscape of the game, and an overview film introducing the project. Watch them all below.
Enquire about Mood Pinball - Email Us

Download Press Pack
Original digital pinball machine commissioned by ODI Data as Culture in partnership with the University of Southampton / King's College London Data Stories project, supported by the EPSRC, grant number EP/PO25676/1. Produced by BOM centre for art, technology and science, Birmingham. Online developments commissioned by ODI Data as Culture. Android app co-commissioned with Now Play This festival 2020.
Wooden Cabinet by Joseph Welden, lasercutting by Juneau Projects and Music by Arc Vel